Join us as emcee Mark Jeffries asks renowned climber Alex Honnold — famous for being the first to free solo El Capitan as featured in the film "Free Solo" – about the mental and physical challenges he faces when scaling the world's most daunting cliffs, how he stays motivated and focused, and lessons he's learned throughout his career. Don't miss this chance to hear from one of the world's most remarkable athletes!
Speaker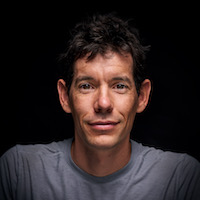 Alex Honnold
Professional Rock Climber
Alex Honnold is a professional rock climber whose audacious free-solo ascents of America's biggest cliffs have made him one of the most recognized and followed climbers in the world. A gifted but hard-working athlete, Honnold is distinguished for his uncanny ability to control his fear while scaling cliffs of dizzyingly heights without a rope to protect him if he falls. His humble, self-effacing attitude toward such extreme risk has earned him the nickname Alex "No Big Deal" Honnold.